Table of Contents 
Current state of the hotel industry and changes in demand

Decline in operating rate due to COVID-19
Base for remote work

What is required of hotels?

Infectious disease control
Dealing with foreign tourists
Enhanced hospitality

5 AI introductions in the hotel industry

①Price setting by AI
(2) AI chatbot
③ Smart check-in
④Smart speaker
⑤ AI cleaning robot

3 AI introduction cases in the hotel industry

① Henn na Hotel | HIS Group
② Hakone Yumoto Onsen Hotel Okada
③Richmond Hotel | RNT Hotels Co., Ltd.

Summary
Current state of the hotel industry and changes in demand
First of all, I will introduce the current situation of the hotel industry in the corona misfortune. We will explain changes in hotel demand from the two perspectives of "lower occupancy rate due to corona" and "remote work base".
Decline in operating rate due to COVID-19
Occupancy rate is the number of rooms occupied divided by the number of available rooms . Low occupancy rates indicate chronic vacancies.
The target line for the occupancy rate of general hotels is said to be 80% or more, but according to the Ministry of Land, Infrastructure, Transport and Tourism Tourism Agency Accommodation Statistics Survey (June 2021 first preliminary report), in June 2021 Overall occupancy rate is 28.7%
From this, it is clear that the operating rate has decreased significantly due to the influence of Corona. You can see that improving the occupancy rate is a current issue in operating a hotel .
Base for remote work
On the other hand, due to the influence of Corona, new demand was born in the hotel industry. It is the role of a base for remote work.
It is a private space compared to cafes, co-working spaces, and glamping , and there are extensive services unique to hotels (large public baths, room service, etc.), so remote work based in hotels is attracting attention. Collecting.
What is required of hotels?
From here, we will introduce three points required of the current hotel industry. Especially in the corona wreck, the two points of "infectious disease countermeasures" and "foreigners" are required to respond immediately.
Infectious disease control
Now that the "new lifestyle" is being recommended, it is necessary to take measures against infectious diseases so that guests can use the hotel with peace of mind.
According to the "Awareness Survey on Travel" conducted by Rakuten Travel, about half of people who are willing to travel want hotels and inns to take some measures against the new coronavirus infection.
Reducing the frequency of contact as much as possible is the basis of infection control. If the automation of hotel operations progresses, it will lead to a safe hotel experience for guests.
Dealing with foreign tourists
When the corona converges and immigration restrictions are relaxed, there is a need to respond to "foreign tourists".
According to a survey of Chinese people conducted by the Japan Inbound Media Consortium, Japan received the most votes as the country they would like to visit after COVID-19.
From this, it can be seen that the desire of Chinese people to visit Japan is still strong.
Now that the number of infected people has decreased, it is a preparation period for hotels to recover the demand for visiting Japan.
Therefore, it is recommended that machines replace foreign tourists, which only some employees could do. This will reduce labor costs and improve service .
Enhanced hospitality
Hospitality means to treat from the heart.
The 21st century, which is overflowing with things, is said to be an era where spiritual satisfaction is sought, and added value that only humans can do is required to the extent that even universities can establish hospitality departments.
By replacing clerical work that was previously done manually with AI , employees can spend more time on hospitality and developing new services than they do now.
5 AI introductions in the hotel industry
Here are five AI tools that can be implemented in the hotel industry. Here are the 5 tools we will be using:
Pricing with AI
AI chatbot
smart check-in
smart speaker
AI cleaning robot
Let's take a closer look at each tool.
①Price setting by AI
The hotel's main source of income is room rates. If the room rate is too high, the reservation will not be filled, and if it is too low, the profit will not increase. In the past, room rates were set by the person in charge based on their experience.
Metro Engine Co., Ltd.'s Metro Engine presents "appropriate pricing that fills the guest rooms with AI." By having AI set prices for you, it will not only improve work efficiency, but also improve the operating rate .
(2) AI chatbot
Hospitality will be strengthened by establishing a system that can respond immediately to guest requests .
By introducing talkappi, AI will respond to questions via chat. In the case of questions that cannot be answered immediately, the hotel will be notified immediately, so there is no need to worry about missing the guest's request.
③ Smart check-in
The first contact with guests is at check-in. As mentioned above , minimizing the frequency of contact is the basis of measures against infectious diseases.
By introducing maneKEY, non-face-to-face reception work can be realized. Face recognition with AI has strengthened security, and English and Chinese are supported, so foreign tourists can check in smoothly.
④Smart speaker
If a guest is in the guest room, the traditional response would have required the employee to communicate with the guest over the phone.
As mentioned above, having AI perform clerical work instead will lead to improved services.
Mr.ALFRED, an AI speaker for hotel guest rooms, will answer your check-out and breakfast times just by talking to you. Also, since it supports English and Chinese, it is possible to answer questions from foreign tourists.
⑤ AI cleaning robot
The AI ​​cleaning robot automatically and efficiently cleans with the push of a button.
Household robots such as Roomba have entered the popularization stage, so many people will feel familiar with their existence. An increasing number of hotels are introducing robots to clean common areas such as lobby floors, under stairs, and elevator halls.
Keio Prelia Hotel Sapporo introduced Whiz, a disinfecting cleaning robot developed by SoftBank Robotics. From now on, AI robots will be introduced to hotel cleaning more and more.
3 AI introduction cases in the hotel industry
From here, we will introduce examples of AI introduction in the hotel industry. The following three cases are introduced here.
Henn na Hotel | HIS Group
Hakone Yumoto Onsen Hotel Okada
Richmond Hotel | RNT Hotels Co., Ltd.
① Henn na Hotel | HIS Group
〈Issues faced〉
Operating profit down 28.5% YoY (FY10/16)
Huis Ten Bosch saw a significant drop in profit due to the impact of the Kumamoto earthquake
Affected by terrorism, profitable European travel declines.
〈Activities〉
Build a "Strange Hotel" with a wide variety of robots in the Huis Ten Bosch Gardens
<Outcome>
Guinness Book of World Records as "the world's first hotel where robots work"Hotel business expands year by year (19 hotels in Japan, Myeong-dong, Seoul, South Korea and Manhattan, New York, USA)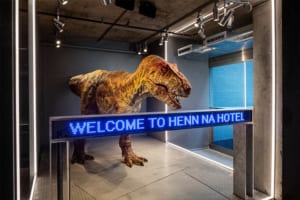 ② Hakone Yumoto Onsen Hotel Okada
〈Issues faced〉
Increased number of bookings processed due to increased personal travel
Inquiries spread outside business hours due to the spread of online reservations
Operation costs increased due to an increase in the number of plans to meet the needs of foreign tourists
〈Activities〉
By introducing Oracle Service Cloud from Oracle Japan Co., Ltd., AI will present question predictions and answers to the "Frequently Asked Questions (FAQ)" on the official website.
〈Results 〉
About half a year after introduction, individual inquiries by phone and email decreased
③Richmond Hotel | RNT Hotels Co., Ltd.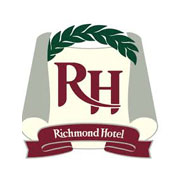 〈Issues faced〉
The front desk notified employees of changes to the cleaning schedule by phone, but it was necessary to stop cleaning and make notes, or there were misunderstandings.
〈Activities〉
Toshiba Digital Solutions' "speech transcription editor" RECAIUS was introduced. Using AI voice recognition technology, it is possible to transcribe the voice of the phone
<Outcome>
Instructions from the front desk are now sent directly to the cleaning staffApproximately 80% reduction in time spent on cleaning instructions
Summary
In order to respond to the social changes caused by the new coronavirus, the need for AI is increasing in the hotel industry, just as AI is required in all industrial fields.
Let's actively incorporate AI by referring to the tools and introduction examples introduced this time. Creating new value and enhancing hospitality by improving work efficiency should lead to improved customer satisfaction.
There are many types of solution tools that utilize AI, so let's start by understanding the current issues.