Table of Contents 
What is Moonshot R&D / Millenia Program?
Toward a challenging goal that is not an extension of current AI research
Discussion among diverse young researchers | Approaches to unknown areas that do not depend on research fields
Possibility of advancing the integration of humanities and sciences precisely because it is a long-term project
Future Prospects | How will AI and society progress in the future?
Thoughts put into the special feature
in conclusion
What is Moonshot R&D / Millenia Program?
"Moonshot research and development" is a project sponsored by the Cabinet Office and promoted by the Japan Science and Technology Agency (JST). It is a system that promotes challenging research and development that incorporates original knowledge and ideas beyond existing frameworks, not limited to conventional research that has deepened technology in individual research fields.
Aiming for "Human Well-being" (people's happiness), nine moonshot goals have been decided so far in order to solve various social, environmental, and economic issues that are the foundation. (See image below)
As indicated by the phrases "by 2040" and "by 2050" in all of the above goals, moonshot research and development aims to promote research and development from a long-term perspective. Although difficult, the challenges that are expected to have a major impact on future industry and society if realized are adopted.
In particular, Goals 8 and 9 were newly added to the existing Moonshot Goals 1 to 7, and were adopted as part of an initiative called the Millenia Program .
In the Millenia Program implemented by JST (Japan Science and Technology Agency) from January to July 2021, young researchers and engineers who are still active in 2050 will plan new moonshot goals by themselves. was conducted under the leadership of visionary leaders who have been at the forefront of industry and academia.
Twenty-one goal review teams were selected from a large number of applications, which were reviewed and evaluated, and finally goals 8 and 9 were added.
Although the background of the goal review team is extremely diverse, including engineering, informatics, medicine, chemistry, and the humanities, they share common ideas on the SDGs (Sustainable Development Goals), well-being, and diversity. , and inclusiveness, etc., and research was underway assuming a future social image.
In the special feature in the November issue, we asked four teams related to the AI ​​field among the teams that participated in the Millenia Program to introduce the results of their research, and proposed their future predictions for 2050. It has the contents.
Why is it important to set long-term goals? With the addition of young researchers, what direction will AI research take in the future?
In this academic journal collaboration, Koji Inoue (Kyoto University) and Shogo Okada, who were in charge of editing the special feature "Future Predictions for 2050 by Young Researchers – From the Moonshot Research and Development Millenia Program-" (Hokuriku Advanced Institute of Science and Technology) and Mr. Yoji Sakuma (Osaka University, Student Editor-in-chief), who contributed as one of the team leaders .
Mr. Inoue and Mr. Sakuma, who were interviewed, are participating in the Millenia Program in the same team. We asked in detail about the significance of working on long-term projects and setting goals, as well as what kind of discussions are held in research studies.
Mr. Koji Inoue Profile
1990 Born in Saga prefecture. He is an assistant professor at Kyoto University Graduate School of Informatics. He has a Ph.D. (informatics). His research interests include spoken dialogue systems, spoken language processing, multimodal interaction, and conversational robots. He has received the Awaya Kiyoshi Academic Encouragement Award from the Acoustical Society of Japan and the Society for Artificial Intelligence Research Group Excellence Award (three years in a row). He is the sub-leader of the "Harmony of Humanity" study team for the Millenia Program, a moonshot research and development project. Since 2020, the Japanese Society for Artificial Intelligence journal and journal editorial committee.
Profile of Shogo Okada
1980 Born in Chiba Prefecture. Associate professor at Japan Advanced Institute of Science and Technology. He holds a Ph.D. (Engineering, Tokyo Institute of Technology). His research interests include social signal processing, multimodal interaction, and machine learning. He has received 3 30th Anniversary Commemorative Paper Awards of the Society, the Excellence Award of the National Conference of the Society, the Excellence Award of the Society Research Group, and the ACM ICMI2019 Best Paper Runner-up Award (2). From 2018 to 2021, he was an editorial committee member of the Society's academic journals and journals.
Profile of Yoji Sakuma
Born in 1996. She is a visiting researcher of the Osaka University Global Initiative Organization and a master's student at the University of Tokyo Graduate School of Arts and Sciences. She is the research team leader of the "Harmony of Humanity" through science and technology in the moonshot research and development project Millenia Program. He has served as director of the Osaka Pavilion Promotion Committee for the 2025 Japan World Exposition (Osaka-Kansai Expo), and as an advisor to the Osaka Prefectural Government's panel of experts for formulating new strategies. Selected as one of the 2nd class members of the Masason Scholarship Foundation (a regular member) in NewsPicks Magazine's "Under 30 of 7 people who will create the future".
Toward a challenging goal that is not an extension of current AI research
ーーWhat do you think about the current state of the Moonshot Goal, the Millenia Program, and the current state of AI research?
Mr. Inoue
Almost two years have passed since the moonshot research and development project started. Some demonstration experiments have started, but I have the impression that there is still more to come.
I believe that there is still a considerable gap between current AI technology and the Moonshot Goals and discussions that have emerged in the Millenia Program. In particular, cutting-edge AI research is a story in a closed world, and since it is a stage where accuracy is improving in that world, for example, the "avatar society" shown in Moonshot Goal 1, or the new I think that goals such as the added Goal 9, "Elemental technologies that provide peace of mind," have not yet reached the level of practical use.
In other words, I don't think the items listed as goals are necessarily an extension of current AI research . So I feel that it will be difficult to achieve our goals unless we make another one or two leaps. My impression is that we need some sort of breakthrough, because if we continue with the current AI research, we won't be able to reach it.
ーーWhat do you think, Mr. Okada? After reading the contributions received for this project, do you have any impressions about current AI research?
Mr. Okada
When I read the contributions (from the teams that participated in the Millenia Program) for this project, I felt that there are also institutional and ethical issues. For example, autonomous driving is entering this phase. Even if technical matters such as sensing and control are cleared one after another, the question is whether it will be realized, including problems such as where responsibility lies in the event of an accident.
I think it is interesting that moonshot research and development projects are challenging long-term issues that cannot be imagined as an extension of current AI research.
Furthermore, I think it is wonderful that you are tackling system design issues and ethical issues that may arise as a result of technological progress, as well as tackling technical issues.
ーーIn Moonshot and the Millenia Program, terms such as "SDGs" and "inclusive" are often used. Are these viewpoints, which have had few opportunities to be considered in AI research so far, also valued?
Mr. Inoue
that's right. The people who gathered for the Millenia Program this time had a wide variety of fields and did not have much in common, so many of them did not know each other until now. I needed something that would serve as a common base when it came to working hard with such people and discussing them in the future. Well-being and the SDGs were laid out as the basis for discussion in the Millenia Program this time. In particular, the perspective of SDGs has become commonplace in today's society.
Having this common ground is pretty special. This is because I recognize that until now, there have not been many common themes not only in Japan but also in the world. It is very important to be able to have discussions with a solid foundation, and I was able to think about the goals of the Millenia Program based on that.
Discussion among diverse young researchers | Approaches to unknown areas that do not depend on research fields
ーーMr. Sakuma, you were in the same team as Mr. Inoue in the Millenia Program, and were considering new goals. What kind of things were you in charge of? Also, what is he responsible for as a young researcher?
Mr. Sakuma
Actually, I was not confident that I would be selected, but Professor Inoue strongly encouraged me to apply for the Millenia Program together. Professor Inoue had a high degree of technical expertise, so my role was to specialize in this Millenia Program, draw an attractive image of society that is unique to Moonshot, and then backcast from there. I tried to realize various methods.
As for the theme, I took on the challenge of "Harmony for Humanity," which I have a strong attachment to, and was in charge of a wide range of tasks, including gathering team members, conducting research and writing reports, and so on.
While consulting with Professor Inoue, I was particular about the team members. Many of the other teams are associate professors and other people with a wealth of skills and achievements, but we cast young researchers and artists of Generation Z who will live until 2100 and will be involved in 2050. Thank you. Their areas of expertise range from artificial intelligence and virtual reality to art, law, and science fiction .
Whether we can present a future that will be interesting to both academia and the general public, and whether it is scientifically and socially feasible, we will work together with a diverse range of researchers. I hope you enjoyed it.
ーSo you were casting with the young person and diversity in mind. What is the advantage of gathering young people? Please tell us about the state of the discussion.
Mr. Sakuma
It was a lot of fun for me. Some people say aggressive things about the topic at that time, and some people throw honest opinions, but I find it interesting that this does not match the stance of the person in his field of expertise. I was. Rather, I was scared because I was expected to make forward-looking statements, and sometimes I worried, "Is that ethical for national project research and development?" (laughs). Including the 100 professors I met at the hearing, I believe that we were able to have discussions that would not normally be possible. How was Mr. Inoue?
Mr. Inoue
As Mr. Sakuma said, I think it's great that young researchers have an environment in which they can safely exchange wild ideas .
Since Mr. Sakuma and I are young, we have no experience or track record as a team. What I thought was rather good was that I didn't have any sense of responsibility to represent my field or to grow my field.
When it comes to projects like this, there is a tendency to want to expand the research field you are working on. I was optimistic that I would be able to do it. I think it was precisely because young people gathered together that we were able to have such genuine discussions.
Possibility of advancing the integration of humanities and sciences precisely because it is a long-term project
ーーSo there are various ways of discussing AI research. In the future, will it be necessary to combine research fields such as ethics, philosophy, and anthropology in addition to engineering and informatics?
Mr. Okada
I think it's exactly what you need. For example, the moonshot goal proposed by the team led by Mr. Seiji Kumagai, who cooperated in this project, deals with the problem of "mind", which is an essential theme for realizing human-like artificial intelligence.
When I myself am researching artificial intelligence, even if I want to incorporate ideas from psychology and sociology, I always have a hard time because I don't have much knowledge about how to combine them to advance research. . I think this program is very interesting because it discusses the positioning of artificial intelligence technology from various research fields and methods of integration .
ーーAre Moonshots and the Millenia Program more active in cross-disciplinary communication than in existing forums for discussion?
Mr. Inoue
I think so. Moonshots and Millenia Programs are characterized by a fairly long span, as some projects span 10 years or more. I think this is a very good thing.
In today's AI research world, in order to survive as a researcher at the top, it is necessary to write a paper once every quarter or half a year, and to produce results through international conferences and journals. . Then it just repeats itself.
Under such circumstances, it is almost impossible to conduct research with people from other fields in the fusion of the humanities and sciences and produce results in a short quarter or six months. For example, instead of conducting research solely by computer science people, we enlist the help of people in the humanities to come up with new problem settings and build data sets on phenomena that have not yet been explored. This would take at least a year or more, delaying the publication cycle.
I think that all researchers understand the need (for research that integrates the humanities and sciences), but I think it is difficult to actually work on it when you think that you have to produce results in a short cycle. For this reason, I believe that Moonshot has the potential to advance the integration of the humanities and sciences even more as the research project period is long .
ーーAs AI research advances, there is also a reality that the implementation of technology is required in a short period of time in society, and that high practicality is emphasized. Because it was a long-term project, flexible casting became possible. Mr. Sakuma, have you thought about designing the long-term moonshot goal?
Mr. Sakuma
In the Millenia Program, it was said that we didn't have to decide in advance which researchers would do what for the goals we set for ourselves.
In national projects such as this, while looking somewhat at the people who will participate and those who will be responsible for the PM, there is also a "people-oriented" design that considers what kind of people from what field will be involved and how they will grow. It is said to be done. However, in this project, someone from a different field whose name we cannot think of can apply, and as long as we can achieve our goals, anyone from any field can become a PM. N) I was impressed by the advice I received from the teachers I interviewed that a true moonshot can only be achieved by setting a goal.
Future Prospects | How will AI and society progress in the future?
ーーI would like to ask everyone who recognizes the importance of conducting long-term research about the future of AI. What direction do you think AI technology and AI research will take in the future? Please let us know if there is anything you would like to work on in the future.
Mr. Sakuma
I would like to make an announcement related to the society that our team aims for.
First of all, I believe that using all kinds of technology, not just artificial intelligence, we can get a little closer to a harmonious society than we are now. It is natural that each individual should be supported to achieve happiness, but at the same time, I believe that the happiness of the group as a society in which "we" live should also be realized. exist in modern times.
In addition, completely new research results such as artificial intelligence, virtual reality, and neuroscience technologies, which are necessary to realize a world full of harmony, are being produced. Please see our report (*) for more details.
In that sense, the goal we proposed in the Millenia Program, which may be criticized, is a roadmap of what tools (technologies) can be used for a society that achieves human harmony. It looks like you drew it. It is not limited to artificial intelligence, but is summarized from the perspective of whether it is possible to create all kinds of tools and use them.
Other teams have different visions, and artificial intelligence is part of their realization. I think the relationship between how words are used in each field and what they do for the world they aim for is very interesting, and I would like to keep an eye on it in the future.(*) Click here for the report by Mr. Sakuma and Mr. Inoue's goal review team▼
Mr. Okada
Technologies such as speech recognition and image recognition have been developed by using large-scale data, and have spread as general-purpose technologies through application to systems and services. In the future, as we have seen in the Millenia Program, I believe that technology customized for individuals will develop. I believe that research into technologies that understand themselves and do things only for them will progress, and that AI will bring us closer to a world where diverse individuals are close to each other.
Many researchers, including myself, Mr. Inoue, and Mr. Sakuma, have continued their research, and I hope that after that, we will be able to expand the abilities and experiences of individuals, and create artificial intelligence that is close to the hearts and minds of individuals. I would like to do my best.
Also, I feel that it is very good that young researchers like this one can propose research themes based on their free ideas. I would like you to send out more and more opportunities such as this kind of coverage.
Mr. Inoue
First, I would like to share my thoughts on the future direction of AI. Realistically, DX will progress little by little, and AI will take over many of the jobs that humans have done up until now. In the future, in a world where the declining birthrate and aging population will continue to progress and the number of workers will decrease, I think that this trend of DX is not a bad thing, but a necessary one.
Another thing I think about is that human autonomy will be lost little by little . When AI takes over what humans have been thinking and doing until now, I think that we will be less likely to think for ourselves in this information society.
Also, regarding the harmonious society that Mr. Sakuma was talking about, for example, at school, we live together with people who don't get along, but if SNS and the Metaverse make all school life possible, If you only have to spend time with people who are compatible with you, at first glance it may seem that human relationships are going well, but on the other hand, you will be in a divided world where you will never meet people who are not compatible with each other for the rest of your life. I don't think it's necessarily a good thing.
I don't know if AI technology will progress that far, but if it does, we need to think a little more about what it will be like for us as humans and what we should do . I believe that we have about 30 more years (until 2050) for that purpose.
Thoughts put into the special feature
ーーLastly, what kind of people would you like to read this feature?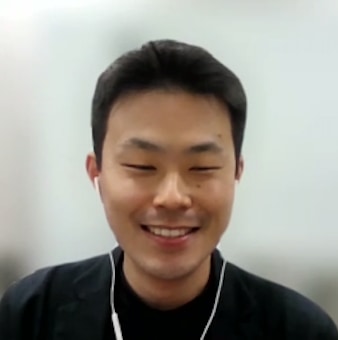 Mr. Inoue
I hope that not only teachers but also students and young researchers will read it. The reason is that the stories that came out in the Millenia Program this time are seemingly dubious and unrealistic, but I want everyone to think about it together as if they were amateurs .
I hope many people will read it regardless of the field.
ーーThank you very much for your precious story!
In conclusion
Because AI technology is the foundation of various fields, discussions across fields will become even more important in implementing the technology in society in the future.
Moonshot R&D will continue to progress as it changes not only technology but also the state of society through further discussions and experiments. In 2050, the world may be more surprising than we can even imagine. Also pay attention to future activities.